Art-therapy group workshops are organized on some Saturdays
"Land art"
Duration: from 2h to one day, depending on the season and the weather
This workshop offers a moment of creation in and with the elements of nature: leaves, branches, twigs, lichens, pebbles, feathers, flowers, fruits, bark, seeds, sand, soil, water …
Our beautiful region is rich in places conducive to creation. Nature in itself is a creation that invites us to play in dialogue with it, all our senses alive: observe, breathe, touch, smell, caress, scratch, dig, trace, plant, assemble, taste sometimes …
This workshop is for people who are connected to nature or feel the need to reconnect with nature and to refocus.
The workshop consists of a welcome time and transport / walk, a creation time and an exchange time.
A snack or picnic time will be shared, depending on the workshop duration.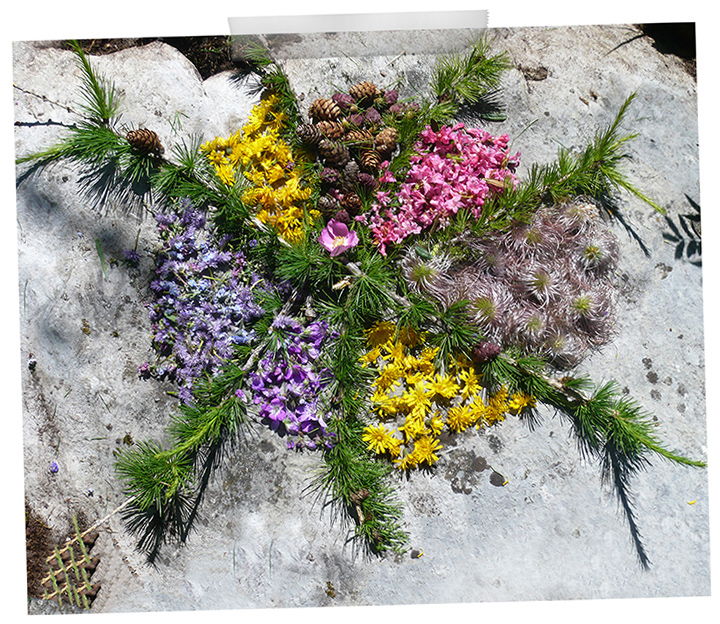 "Explore the senses" workshop

Duration: 2h to 2h30 depending on the number of clients.
This workshop invites the patient to explore their emotions and feelings that arise from touch, smell, hearing, taste and sight;
To get caught up in the game, guided and inspired by your senses and to re-discover them during a creative and imaginary journey. The means of expression are varied: painting, collage, writing, modeling, 3D creations, sounds, body expression …
The workshop is split into four sections, a welcome time, a warm-up time, a creation time and then an exchange time. This last section enables the participant, if they wish, to make connections between one or more moments of their experience during the workshop and their daily life. It is a reflective moment that can give the participant some ideas to better understand some situations they are going through, it may lead to a new perspective to it, as well as creating new ways to move towards a improved well being.